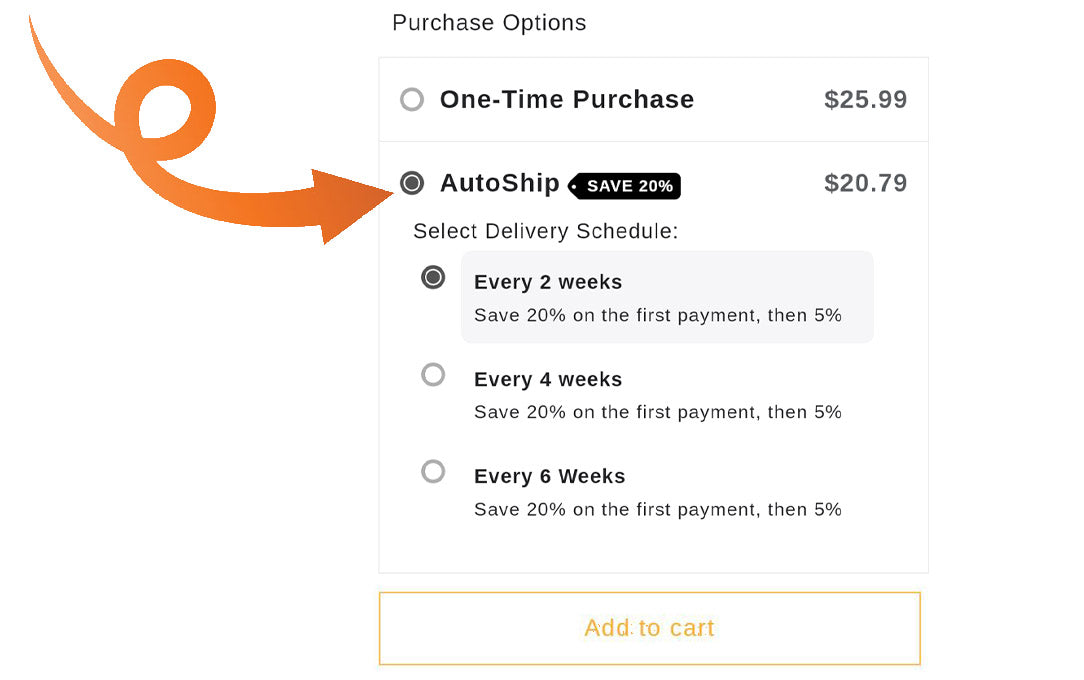 Enjoy the convenience of automatic deliveries and save both time and money with Nala and Luca's AutoShip Program. Get a 20% discount on your first order and an additional 5% off on future orders at our already low prices. No more worrying about running out!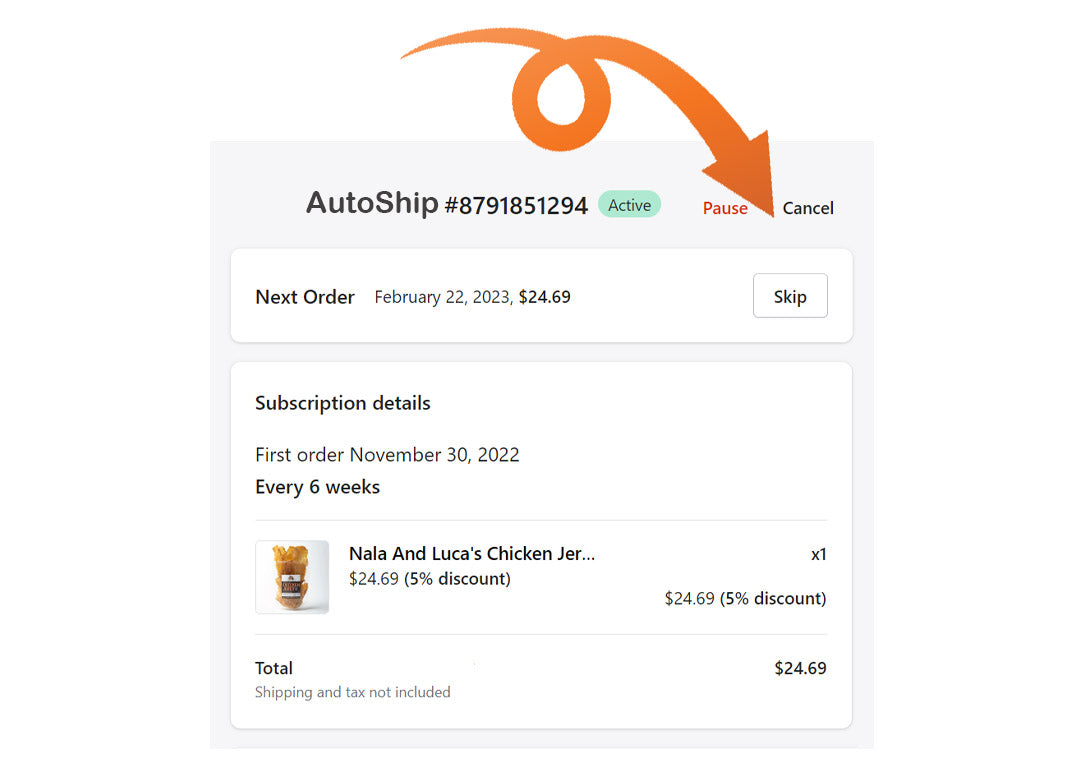 You can easily manage your AutoShip details on the subsciption page.
There, you can pause, skip, or cancel your autoshipment at anytime!
Add your favs to cart and choose AutoShip.

Set a delivery frequency that works best for you.

Sit back and relax - we've got the rest!
What customers are saying about AutoShip
Elizabeth from Nashville, TN

"I've been enjoying the benefits of the auto-ship program for several months now. I particularly appreciate its flexibility, including the option to pause or skip a shipment if necessary, which is incredibly convenient." 

Lucy from Chicago, IL

"I recently signed up for the autoship program for my dog's treats, and I am so glad I did. I no longer have to deal with the hassle of reordering, and I never run out of my dogs' favorite snacks."

Mark from El Cajon, CA

"Not only do I save 5% on every order, but the convenience factor is unbeatable. The treats simply show up at my doorstep every month, saving me valuable time and effort."
Frequently Asked Questions
Collapsible content
What is the AutoShip Program and how does it work?

The AutoShip program provides a hassle-free method of receiving your desired items on a set schedule. We deliver your selected items at the frequency of your choice, be it every 2, 4, or 6 weeks. The program is user-friendly and can be tailored to your needs. Simply specify the desired frequency and we'll handle the rest.
What is the AutoShip discount?

The Autoship program offers a 20% discount on your first order, and recurring 5% discount on all future Autoship orders. This discount of 20% will be applied to your initial order and then a 5% discount will be applied to all subsequent automatic reshipments.
How do I join the AutoShip Program?

Signing up is a breeze. To enroll in the AutoShip program, simply add a product to your cart and choose the AutoShip option for the item. Pick your preferred ordering frequency, and proceed to checkout as you normally would.
What happens after I join the AutoShip Program?

After you join, you'll receive an email confirming your enrollment in the AutoShip program. This email will include a link to the "AutoShip" section of your Nala and Luca's account, where you can manage future orders and AutoShip account information.

We'll place your AutoShip orders automatically according to your selected frequency. We will send you an order confirmation email and a shipment confirmation email each time your order is sent. Additionally, you'll receive email notifications regarding other information related to your AutoShip account, such as, if your payment method doesn't work or needs to be updated.
How do I make changes to my AutoShip order?

When you sign up for an AutoShip order, we create a customer portal account for you so that you can easily manage your subscription. You can do the following tasks through your portal page:

Check subscription details (products, price, next order date, etc.)
Cancel the subscription
Pause the subscription
Skip next order
Apply a discount code to an existing subscriptions
Update your payment information
Edit your shipping address
See the history of all your subscription orders
Where can I get more help?

Should you have any further questions please email us at info@nalaandlucas.com